Dr. Martin Grünewald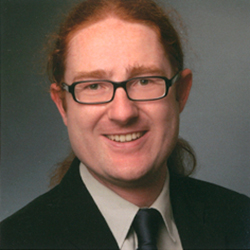 Email: MartinGruenewald
gmx.de
Anschrift: LVR-Amt für Bodendenkmalpflege im Rheinland, Außenstelle Titz
Ehrenstraße 14-16
52445 Titz
---
Research Interests
Mobility and Migration in the Northwest of the Roman Empire
Roma and Germania: Burial Rites and Rural Settlements
Economical, cultural and social Practices in Antiquity between the Atlantic Ocean and Barbaricum
Material Culture in the Northwestern Provinces of the Roman Empire
Detailed information
Curriculum Vitae
2000-2005 Student of Archaeology of the Roman Provinces, Ancient History and Art History in Passau and Cologne
2005-2009 Scholarship holder at 'Römisch-Germanisches Zentralmuseum Mainz, Forschungsbereich Vulkanologie, Archäologie und Technikgeschichte Mayen'
2010-2013 Scientific assistant in the project 'Zur Landnutzung im Umfeld eines römischen ›Industriereviers‹. Interdisziplinäre Studien im Umfeld des antiken Steinbruchgebietes und Töpferzentrums bei Mayen (Landkreis Mayen-Koblenz)' at 'Universität zu Köln', 'Römisch-Germanisches Zentralmuseum Mainz' and 'Generaldirektion Kulturelles Erbe Rheinland-Pfalz', financed by the 'Deutsche Forschungsgemeinschaft' (DFG)
2011-2012 Holder of a travel grant ('Reisestipendium'), 'Römisch-Germanische Kommission' / 'Deutsches Archäologisches Institut'
2013-2014 Postdoctoral scholarship holder in SAW-Project 'For the sake of salvation and happiness in life: Studies on Byzantine pilgrimage and its origins' at 'Römisch-Germanisches Zentralmuseum Mainz'
2014-2016 Scientific assistant at Bayerisches Landesamt für Denkmalpflege in project 7 'Gontia als "melting pot"? Die Zusammensetzung der kastellzeitlichen römischen Bevölkerung Günzburgs im Spiegel der Gräber. Ein Modell für Raetien', Research unit of the DFG FOR 1670 Transalpine Mobility and Culture Transfer
since 2016 Staff member at 'LVR-Amt für Bodendenkmalpflege im Rheinland' in Titz
Projects
Publications
Monographies
Römische Landnutzung in der Eifel – Neue Ausgrabungen und Forschungen. RGZM – Tagungen 16 (Mainz 2012, editor with S. Wenzel).
Die römischen Gräberfelder von Mayen. Monographien des RGZM 96, 1-2 (Mainz 2011)
Essays
Studien zur Bevölkerungsdichte und Migration in Obergermanien und Raetien. Ein Überblick anhand ausgewählter Gräberfelder. Germania 96, 2018, 159-208.
Mann aus dem Osten? Archäologie in Deutschland 2019/1, 57-58.
Jagdunfall im Hambacher Forst? Archäologie in Deutschland 2019/3, 59.
Ein Heerweg des 17. Jahrhunderts bei Kerpen-Manheim – zugleich älteste Straße vom Mittelmeer an den Rhein? In: M. Aufleger / P. Tutlies (ed.), Das Ganze ist mehr als die Summe seiner Teile. Festschrift für Jürgen Kunow. Materialien zur Bodendenkmalpflege im Rheinland (Bonn 2018) 263-269.
Die befestigte latènezeitliche Flachland-Großsiedlung von Kerpen-Manheim. Archäologie im Rheinland 2017 (Stuttgart 2018) 75-77 (with H. Haarich).
Ewig Seite an Seite? Zwei außergewöhnliche Gräber der villa rustica HA 2015/27. Archäologie im Rheinland 2017 (Stuttgart 2018) 134-137 (with J. Janssens).
Gontia as a Melting Pot. The Composition of the Population during Günzburg's Early Roman Military Period, as reflected by its Graves. Thoughts about a Model for Raetia. In: C. S. Sommer / S. Matešic (ed.), Limes XXIII. Proceedings of the 23rd International Congress of Roman Frontier Studies Ingolstadt 2015. Akten des 23. Limeskongresses in Ingolstadt 2015. Beiträge zum Welterbe Limes 4 (Mainz 2018) 861-869.
Religiös bewegt: Pilger in Antike und Mittelalter. In: M. Wemhoff / M. M. Rind (ed.), Bewegte Zeiten. Archäologie in Deutschland. Begleitband zur Ausstellung 21. September 2018 bis 6. Januar 2019, Gropius Bau, Berlin (Berlin 2018) 130-139 ( with A. Haasis-Berner).
Skeletal remains of neonates from the Roman cemetery of Günzburg (Bavaria, FRG) - How long did the newborns survive? Microscopic assessment of the presence of the neonatal line in dental enamel. Anthropologie. International Journal of Human Diversity and Evolution 56/1, 2018, 1-10 (with S. Sebald / L. Stenzel / G. Grupe).
Heilpilgern und Pilgern im Rahmen überregionalen Provinzialkultes in den Nordwest-Provinzen des Römischen Reiches. In: D. Ariantzi / I. Eichner (ed.), Für Seelenheil und Lebensglück. Das byzantinische Pilgerwesen und seine Wurzeln. Byzanz zwischen Orient und Okzident 10 (Mainz 2018) 43-55.
Hingeschaut! Zeitschrift für praktische Augenheilkunde 38, 2017, 392.
Früh- und mittelkaiserzeitliche Glasgefäße im nördlichen Obergermanien. In: S. Wolf / A. de Pury-Gysel (ed.), Annales du 20e Congrès de l'Association Internationale pour l'Histoire du Verre. Fribourg / Romont 7–11 septembre 2015 (Rahden 2017) 145-151.
Römischer Facharzt auf dem Land. Archäologie in Deutschland 5/2017, 52.
Vorgeschichte und Römerzeit. In: Westhofen. Von den Anfängen bis zum Beginn des 20. Jahrhunderts (Mainz 2017) 19-52.
Current synthesis and future options. In: G. Grupe, A. Grigat, G. C. McGlynn (ed.), Across the Alps in Prehistory. Isotopic Mapping of the Brenner Passage by Bioarchaeology (Berlin 2017) 229-250 (with G. Grupe, St. Hölzl, P. Kröger, A. Lang, Chr. Mayr, C. Metzner-Nebelsick, J. Peters, W. Schmahl, F. Söllner, C. S. Sommer, B. Steidl).
Roman Healing Pilgrimage North of the Alps. In: T. M. Kristensen, W. Friese (ed.), Excavating Pilgrimage – Archaeological Approaches to Sacred Travel and Movement in the Ancient World. Routledge Studies in Pilgrimage, Religious Travel and Tourism (London, New York 2017) 130-151.
Studien zur Bevölkerungsherkunft Raetiens am Beispiel der frühen römischen Bestattungen von Günzburgs. In: G. Grabherr, B. Kainrath, J. Kopf, K. Oberhofer (ed.), Der Übergang vom Militärlager zur Zivilsiedlung. Akten des internationalen Symposiums vom 23.-25. Oktober 2014 in Innsbruck. IKARUS 10 (Innsbruck 2016) 172-191.
Schmelztiegel der Kulturen. Die Bevölkerung Raetiens um 100 n. Chr. am Beispiel von Günzburg. Bayerische Archäologie 3/2015, 38-41.
Networking in Bioarchaeology: The example of the DFG Research Group FOR 1670 "Transalpine Mobility and Cultural Transfer". In: Gisela Grupe, George McGlynn, Joris Peters (ed.): Bioarchaeology beyond Osteology. Documenta Archaeobiologiae 12, 2015, 13-51. (with G. Grupe, St. Hölzl, B. Kocsis, P. Kröger, A. Lang, M. Mauder, Chr. Mayr, G. C. McGlynn, C. Metzner-Nebelsick, E. Ntoutsi, J. Peters, M. Renz, S. Reuß, W. W. Schmahl, F. Söllner, C. S. Sommer, B. Steidl, A. Toncala, S. Trixl, D. Wycisk).
Überlegungen zum Glasrecycling in der Antike im Bereich des heutigen Deutschland. In: P. Henrich, Ch. Miks, J. Obmann, M. Wieland (ed.), Non solum ... sed etiam. Festschrift für Thomas Fischer zum 65. Geburtstag (Rahden/Westf. 2015) 153-164 (with S. Hartmann).
Das antike Steinbruch- und Bergwerksrevier zwischen Eifel und Rhein. Kolloquium zum Abschied von Prof. Dr. Wolfgang Czysz aus dem Dienst des Bayerischen Landesamts für Denkmalpflege. Mola – molendina – molina. Römische und frühmittelalterliche Mühlen in Bayern und anderswo. Bericht der Bayerischen Bodendenkmalpflege 55, 2014, 22-23.
Glass workshops in Northern Gaul and the Rhineland in the first millennium AD as hints of a changing land use – including some results of the chemical analyses of glass from Mayen. In: D. Keller, J. Price, C. Jackson (ed.), Neighbours and Successors of Rome. Traditions of Glass Production and use in Europe and the Middle East in the Later 1st Millennium AD. International Conference of the Association for the History of Glass on 19 & 20 May 2011 at The King's Manor, University of York, UK (Oxford 2014) 43-57 (with S. Hartmann).
Erforschung von Sammlungsbeständen: Beschriftete römische Schleuderbleie. Jahrbuch RGZM 60, 2013, 104-105.
Études typo-chronologiques du verre de l'Antiquité tardive trouvé à Mayen : les bouteilles Isings 132. In: V. Arveiller, H. Cabart (ed.), Le verre en Lorraine et dans les régions voisines. Actes du Colloque International, 26e Rencontres de l'Association Française pour l'Archéologie du verre. Metz, 18 et 19 novembre 2011. Monographies Instrumentum 42 (Montagnac 2012) 197-210.
Reiche Steinbruchbesitzer? Die Villa in Axialhofanlage von Lungenkärchen bei Mendig (Lkr. Mayen-Koblenz) im Kontext der römischen Landnutzung. In: M. Grünewald, S. Wenzel (ed.), Römische Landnutzung in der Eifel – Neue Ausgrabungen und Forschungen. RGZM – Tagungen 16 (Mainz 2012) 159-179.
Zur Landnutzung im Umfeld des antiken Steinbruchreviers bei Mayen. Überraschende Ergebnisse verweisen auf römischen Reichtum. Eifeljahrbuch 2012, 217-223 (with S. Wenzel).
Der Wirtschaftsstandort Mayen – Ein Fundort mit einer lang zurückreichenden Besiedlungstradition. Antike Welt 1, 2012, 79-84.
Mayen zwischen Spätantike und frühem Mittelalter. In: J. Drauschke et al. (ed.), Untergang und Neuanfang: Tagungsbeiträge der Arbeitsgemeinschaft Spätantike und Frühmittelalter, 3. Siedlungsarchäologie (Mannheim, 13. - 14. Mai 2008), 4. Militaria und Verteidigungsanlagen (Detmold, 1. September 2009). Studien zu Spätantike und Frühmittelalter 3 (Hamburg 2011) 205-212 (with A. Glauben and L. Grunwald).
Der allererste Hundenapf. Dogs 3, 2010, 12-13.
The Late Antique glass from Mayen (Germany): First results of chemical and archaeological studies. In: B. Zorn / A. Hilgner (ed.), Glass along the Silkroad from 200 BC to 1000 AD. RGZM – Tagungen 9 (Mainz 2010) 15-28 (with S. Hartmann).
Eine römische Hundebestattung mit zugehörigem Fressnapf aus Mayen. Archäologisches Korrespondenzblatt 39, 2009, 251-261 (shorter in Archäologie in Deutschland 3, 2010, 72).
Zeugen Caesars schwerster Schlacht? Beschriftete andalusische Schleuderbleie aus der Zeit des Zweiten Punischen Krieges und der Kampagne von Munda. In: Á. Morillo, N. Hanel, E. Martín (ed.), XXth international congress of roman frontier studies. León (España), Septiembre 2006. Anejos de Gladius 13, 1 (Madrid 2009) 445-455 (with A. Richter).
Mayen am Übergang von Spätantike zu frühem Mittelalter. In: O. Wagener (ed.), Der umkämpfte Ort. Von der Antike zum Mittelalter. Mediaevistik Beih. 10 (Frankfurt 2009) 135-156 (with A. Glauben and L. Grunwald).
Zeugen Caesars schwerster Schlacht? Beschriftete andalusische Schleuderbleie aus der Zeit des Zweiten Punischen Krieges und der Kampagne von Munda. Zeitschrift für Papyrologie und Epigraphik 157, 2006, 261-269 (with A. Richter).
Reviews
Memberships
Member of the Committee of panel V 'Glass History and Glass Art' of 'Deutsche Glastechnische Gesellschaft e.V.'
Member of the executive committee of the 'International Association for the History of Glass'
Co-organiser of the annual conference on the archaeology of glass "Glastag" and various other international conferences