Fachschaft (Student Association)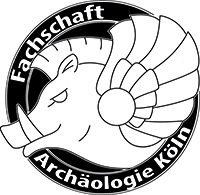 You are just starting your studies and have questions about the archaeological majors, you have problems with your ongoing studies or you want to become an active member in the student life at the Archaeological Institute? If so, you are just right at the student representative body (Fachschaft)!
The Fachschaft of Archaeology is a representational body of students of Archaeology at the University of Cologne, which is elected by students. You can get in touch with us if you have any questions or problems with your studies of Archaeology. In an open forum among students, information is exchanged and problems are discussed. Also, the Fachschaft is the direct link to docents when it comes to the students' opinions. It is also involved in decision making processes by the participation in institution conferences through representatives. At the same times, we organize the first meet and greet (and pub crawls) of freshmen, excursions that aim to support the curriculum and also the parties of the institute (e. g. carnival, Christmas and summer parties).
We are made up of student of both study areas that can be found at the Archaeological Institute (Classical Archaeology / Archaeology of the Roman Provinces) with a total of 6 representatives that are elected twice a year – but everyone is welcome! So, if you want to get involved actively with the Fachschaft or if you just want to get a first look, come to one of our meetings! We are always happy to see new faces – true to the motto: We want you for Fachschaft!
Our meetings take place in the Teeküche in the Archaeological Institute once a week. Notices, protocols of the meetings, posters and news can be found at the notice board at the entrance of the library, or on our Facebook page and the Kompass Archäologie Köln.
There is also the Fachschaft of Ur- und Frühgeschichte. Here is the link of their homepage: http://fs-ufg.phil-fak.uni-koeln.de.
If you have any questions, problems, or suggestions, please feel free to contact us via Email, Facebook or personally in the weekly meeting!
Your Fachschaft Archäologie Köln